BREAKING NEWS: HONOR & VALOR FOUNDATION EXPANDS
We are excited to share that Honor & Valor Foundation has expanded into Tennessee, working with Garry Thomas and his UNKNOWN SOLDIER organization.  Garry is located in the Nashville area, and will be promoting our Military on his TV show. Stay tuned for more details!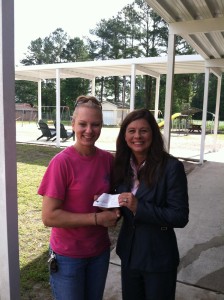 HONOR & VALOR IN THE COMMUNITY
Big thanks to media coordinator Julie Hathway who spearheaded a raffle for a 40 inch big screen TV in March. The proceeds went to the Old Dock Elementary School, which burned down earlier this year.  We were pleased to present school principal Ronna Gore with a $750 check for supplies.  The winner of the TV was Terry Clemmons.
HUNTING/FISHING  UPDATES
Our Turkey Season in North Carolina this spring was not very successful: the Marines we had scheduled could not make it for personal reasons. However the guys in Iowa had some success.
Alan and Victor have started planting food plots for deer and will be sending pictures as they mature!  The corn has been planted in the duck impoundment here in North Carolina and the sunflowers have been planted for the dove field.
We are also working on stocking the 7 acre lake with fish to be used for our youth fishing trips.  Here is Roy and Bobby taking a break one Saturday.  Roy said we would stock a few fish in "GREASE!!"  We have several Deep Sea fishing Charter trips lined up for the summer into the fall.
HONOR & VALOR FOUNDATION OUT AND ABOUT
Larry had the pleasure of being in DC for Memorial Day and visiting Arlington National Cemetery, the WWII Memorial, and the Viet Nam Memorial Wall. He shares, "It was an experience to stand and watch "ROLLING THUNDER" cross the bridge into DC.  If you visit DC this summer Arlington is a must visit.  Be sure to watch the Changing of the Guard!!  There is a lot of history at Arlington." Larry got a quick 26-second video of the Rolling Thunder—watch it here IMG_0281 (1).
We will be at the Blueberry Festival in Burgaw NC on June 20; come see us!!  We will be at booth NP 22 on S Walker Steet, just past the intersection of Wilmington and Walker Streets. We will be selling $5 raffle tickets for a Savage model 93R–17HMR, showcasing our new RED t-shirts, and handing out some freebies. Be sure to stop by for a visit.
Andy and Larry are scheduled for a Pentagon Tour later this summer, and our PR director, Chad will spread the word about Honor And Valor while he vacations in Hawaii with his wife.
REINFORCEMENT PROGRAM UPDATE
Great news:  Eastern Aluminum in Wilmington has donated doors and windows to be used for our Military families that need home improvements.  We are also talking with a major retail outlet about joining up with them to do more projects.  This will be huge when it is finalized.
HOW YOU CAN GET INVOLVED
The foundation is still seeking a major sponsor and funds to implement the many things we will do for our Military.  All of our people are volunteers.  If you are a biker we would appreciate a ride or poker run.  If you work for a company that donates to a 501c3 let us know how to be considered.
Our Amazon Smile Program is growing, so if you will, use us and share with your friends. It's simple to shop Amazon and support our foundation. You can find details here.We appreciate your support in our efforts to continue providing more services and events to our Military.